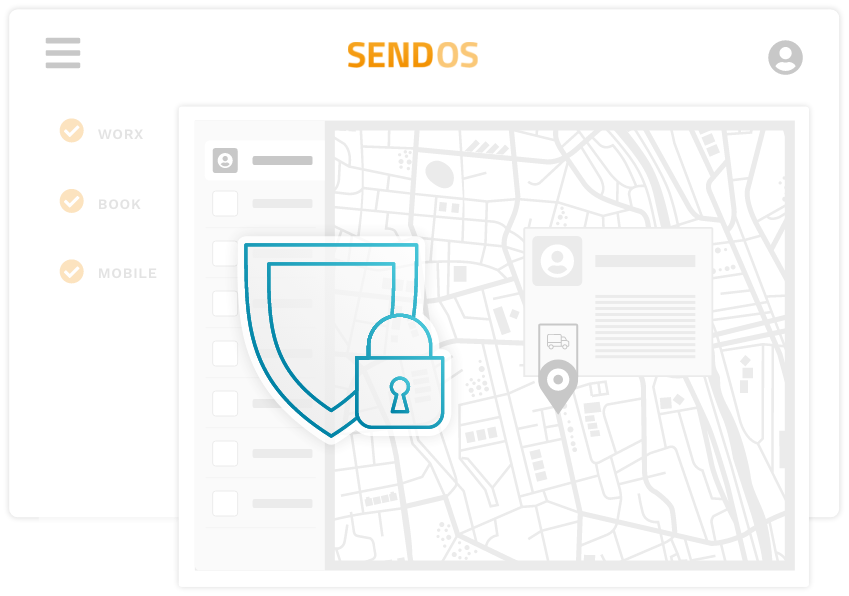 SECURITY
Cloud Service von SendOS
SAFE AND SECURE
And we have good reasons for this, which we would like to present to you briefly below. We are sure that the forwarding software sendOS is one of the safest ways to manage your logistical data at any time and independently!
FOUR COMMON PREJUDICES
My data is scattered all over the world
sendOS is a German provider. For us, this also means that we operate our entire infrastructure in German data centres and act according to German data protection requirements! This means that your data is securely stored in Gunzenhausen at all times and is not located on servers outside of Germany, or even the EU, as is the case with other products.
Access via the internet is insecure
Access to sendOS is secured with state-of-the-art SSL encryption – a technology also used by banks – ensuring the best possible security for data transmission between you and the sendOS server. In addition, we use innovative security measures to prevent unauthorised access to your account and ward off potential attacks. Since your username and password are usually the "easiest" way for a potential attacker, we require you to use a sufficiently secure password when creating your account.
The data on my PC is much safer and more reliable.
For most PC users, this is not the case. Test it! If you can answer YES to all the following questions, then your PC would be at least as secure as the sendOS servers:
Is your PC equipped with several redundant hard disks which mirror each other in real time in order to have your data available without a second of downtime even if one hard disk fails?
Is your PC regularly checked by IT specialists for its security and current weak points? Are system and software updates regularly installed?
Do you have a daily copy of your data? And is this copy also stored in a different location from your PC – in case your entire PC is physically destroyed?
Are the rooms where your PC is located high-security rooms equipped with video surveillance, security guards and biometric access control, and also secured against fires with state-of-the-art CO2 extinguishing systems?
If your PC fails, can you access and work with your data directly and without interruption from any other PC?
I find it difficult to switch a cloud application
With sendOS logistics software, you have the same options as with any other desktop software – and much more. You tell us how you want your data to be made available and we carry out the corresponding data export for you. This way you can move with your complete data stock.